Covid 19 Restrictions
Our home based office is open for enquirys.
Please contact us by phone, text or email if you have an enquiry.
Our tiling services are on hold until furture notice.
Thanks for visiting.
Looking for a professional tiler who does an immaculate job Stuart is outstanding. Timely, great communicator and a genuinely nice guy. Our bathroom was transformed in a matter of days and looks fantastic. Stuart gave us a quick response, with sound advice, thoroughly recommend. 18/1/2019
Stuart
We thought we would take this opportunity to thank you for your awesome job of laying the tiles around the exterior of our holiday home. Your craftsmanship was well known to us as 6 years ago you tiled our ensuite, bathroom and toilet at a time when the style was considered very "mod" and today is still very much in vogue and often remarked on by our visitors. Hence you were our first choice to tackle the exterior tiling around our home and the entrance-way. Cheryl and myself both appreciated that you took the time to visit us bringing samples of tiles which you thought would be suitable and the final choice looks superb. Several attempts had been made to rectify the finish of the concrete around the house but it was very pitted and rough to the extent that you could not walk in barefeet on the surface. You were able to overcome these obstacles and the final result is truly outstanding and just put the finishing touch to our holiday home. Please feel free to use this testimonial as an endorsement of your ability, skill and professionalism as we believe you bring that X factor to any project you undertake.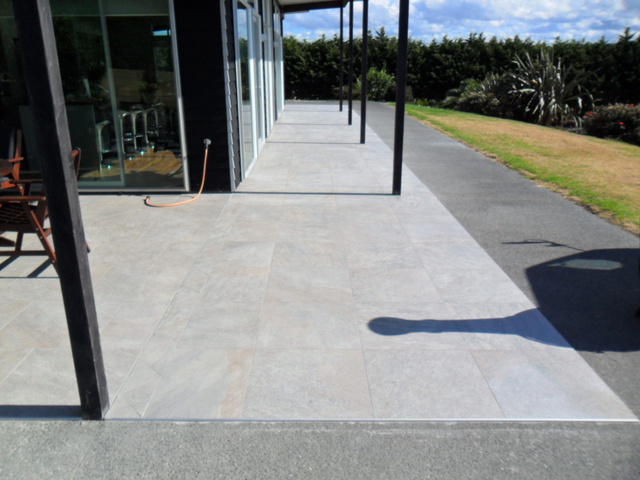 Good morning Stuart
Arthur and I would like to thank you for the absolutely wonderful job you did tiling our woodbox and hearth. The new fire is in and it looks great! The electrician came yesterday and when he walked in he stopped and said "Wow! what a difference!" So thank you for helping us modernise our lounge.